Violetta: The next generation of IV stand
Now used by Healthcare at Home and BUPA Home Healthcare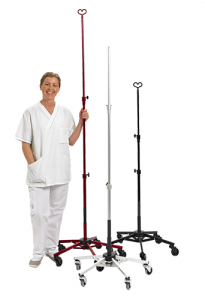 The Violetta is a true innovation that will change everything you've ever known about IV stands.
Manufactured in Sweden and constructed from aluminium, Violetta is extremely portable, space-saving and lightweight. Weighing just 3kgs, Violetta's incredible strength allows for the secure and safe support of up to 10kgs of medical equipment and IV fluids.
Collapsible and easily stored when necessary, Violetta saves valuable space in busy healthcare environments and is ideal for home healthcare, community nursing, mobile clinics and veterinary healthcare.
Up to 16 Violetta IV stands can be stored on a two-level rack in a space of just 0.5m2 (single-level eight Violetta stand racks are also available), which means they take up the minimum of precious storage or ward space
Key features
Quiet operation
The Violetta has a low sound profile with five robust wheels, making it ideal for hospitals and community healthcare environments

Range of options
The stand comes in five colour options: brake options also available.
Other specifications
Two IV bag hooks are standard on each stand (extra pair of hooks per stand optional). Minimum height: 85cm. Maximum height: 215cm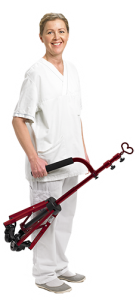 Watch the video